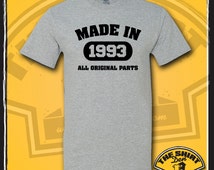 'Ola Amigos! 🙂
So this Tuesday, April 21st, was my birthday and I turned 22 😀 *punches whoever sings "22" by Taylor Swift* and while I was sloshed (as is my hobby), I was thinking about all the things that I've learnt so far, right up until this point in my life. So, yeah, one thought led to another and here I am! (sober though)
Without further ado, 21 things I learnt while I was 21!
1)  So, get this, sitting in front of the T.V. eating potato chips does not give you abs apparently. You need to do something known as EXER….EXERC….EXERCISE? Huh. I could swear it was EXTRA FRIES.
2) Never trust people who don't like ice-cream. They're sly as fudge.
3) The friends you make in uni are for life. But don't forget your old ones, just make room for the new ones!
4) Beer and cigarettes is a good combination for zoning out of conversations.
5) Helped a few people, took care of a few animals, and I think I found my calling.
6) I've reached a new level in annoying my crazy aunts and uncles who poke their nose into my business. I told them I was a lesbian. Chaos reigned. (I'm straight though 🙂 These things scare away the Indian relatives)
7) The older I get, the more I forget how to adult, much less human.
8) Hot showers in the middle of the night during a thunderstorm was not as scary as I thought.
9) There are no such things as ghosts.
10) Every single thing in life is more fun with a dirty mind.
11) Indian men will never be attracted to me as I don't fit their "Fair, thin, long hair" paradigm,  hence, they can kiss my ass.
12) Cutting off my hair completely and yelling "I'M A BOY NOW!" to your grandmom is a bad, BAD, idea.
13) I would like to thank a special, green plant with 5 pointed leaves, because without it, I wouldn't have been able to complete 3 essays and study one subject. Thank you.
14) Bars are wayyyy better than clubs/pubs. Sitting in cozy corners with people you like is way more appealing than having your body used as a pole by sweaty strangers.
15) Smiling more at people who don't like me is more fun than giving them the finger.
16) I have always known this but when all else fails, Pizza and chocolate ice-cream will always be there for me, as is been proven time and time again.
17) When a nice person starts getting angry, RUN. Run and hide yo ass!
18) Cutting off all the negative people from my life made it so much more simple and peaceful.
19) I'm loving myself more and more everyday. Every flaw that I have just makes me more…..me.
20) Still waiting for my Hogwarts letter. It's been 11 years but I'm sure it's on its way.
21) Made a conscious decision that I will be happy no matter what life throws at me. I don't know where I'm headed but I will work towards what I want to do in life. In the meantime, I'm ready for anything so, dear life, *pulls life by its balls and whispers into its ears*
COME AT ME BRO.